A luxury holiday company is offering to use geo-engineering to guarantee 'fair weather and clear skies' – for a starting price tag of £100,000.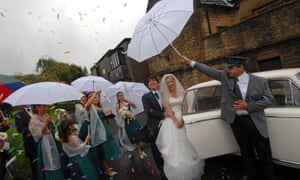 Tweaking the atmosphere to bring rain to order may seem so outlandish that it belongs to some dystopian future, but in reality it is nothing new. The science of cloud seeding dates from the forties, and the work of US chemist Vincent Schaefer. In the post-war years experiments in rain creation were rife on either side of the Atlantic. They reached a zenith during the Vietnam war when the US government allegedly conducted their highly classified Operation Popeye, an attempt to extend the monsoon season by cloud seeding in the hope of flushing out the Viet Cong.
It turned out that scientists had misunderstood the effect of silver iodide. While it did induce the ice crystals, the drops of water that fell from seeded clouds were often so small that they evaporated before they reached earth. Instead of the anticipated deluge, the silver iodide was dispersing the rain drops, or, in the terminology now used by Oliver's Travel, "bursting" it.

Although not what was initially intended in the 1940s, scientists realised that this process – an ability to prevent rain – was equally useful. For years the Russian government has made use of this science as part of its well-known weather control programme. The Russians seed clouds to ensure bright skies for their three major celebrations of the year: Victory Day, City Day and Russia Day. The Chinese do so too. They fired 21 silver iodide rockets into the Beijing skies in 8 August 2008, four hours before the opening ceremony of the Olympic Games. The rain stayed away.
Cloud seeding has been used for many years now all over the World and yet people are still in denial over the existence of Geoengineering.
The process of cloud seeding has no real legal boundaries at the moment with just about anyone with the financial capabilities legally allowed to dump what they want into the atmosphere. Traditionally Cloud seeding uses silver iodide, potassium iodide and dry ice (solid carbon dioxide) but various compaines providing these types of services use a multitude of different components.
If you visit 'Weather Modification Incorporated' you will see this particular company offer a whole range of custom tailored services to suit your every geoengineering requirement.
From their website:
Weather Modification, Inc., has a wide range of services to provide knowledge, data, equipment and capability at any phase in your project. We can also tailor a program to meet your specific objectives and manage it from beginning to end.

Our talented scientists, researchers, project managers, technicians, and pilots have the expertise you need to carry out an efficient, effective weather program.
They even offer fleet management and modification of customers aviation vehicles to begin cloud seeding.
Its all out there for everyone to see, our skies have been a hazy mess for years but the masses claim 'Conspiracy theory' if you even mention the issue. But this is no conspiracy, this is apparently a public service if you have the money to spare.
The traditional cloud seeding methods use chemicals which include silver iodide, potassium iodide and dry ice (solid carbon dioxide) and Liquid propane. But not restricted to these as there is little to no regulation on geoengineering at this time.
Source:
Company offers rain-free wedding days for £100,000 | Guardian Sustainable Business | The Guardian
https://en.wikipedia.org/wiki/Cloud_seeding