Ministers have been accused of trying to sneak through new rules allowing shale drilling under national parks without a proper parliamentary debate, in a move condemned by Labour and anti-fracking campaigners.
The rules, first proposed in July, would permit drilling underneath protected areas, despite a commitment before the election from Amber Rudd, the energy secretary, to have an outright ban on fracking in national parks, sites of special scientific interest (SSSIs) and areas of outstanding natural beauty.
Instead of a full parliamentary debate, the controversial measures will instead be discussed and voted on by a small committee of MPs on Tuesday. All MPs will get to vote on the regulations at some point next week but will be denied the chance of a debate.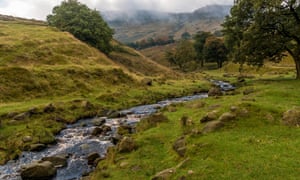 The 18 committee members include 10 Conservatives, including energy minister Andrea Leadsom, Julian Smith, an assistant whip, and Paul Maynard, a parliamentary aide to Rudd whose local association received a £5,000 donation before the election from Addison Projects, a company that could benefit from fracking. Maynard, the MP for Blackpool North and Cleveleys, has said the donation was in no way connected to the development of shale gas.
Source: Ministers accused of trying to sneak through new fracking rules | Environment | The Guardian