Slowly but surely Smart Meters are being unravelled and fitted in just about every Westernised Country. With promises of Energy Saving and thus Money saving advantages these devices are being pushed upon the population.
So what's the problem with a Smart Meter ?
Well, a simpler question might be what's good about a smart meter. The promoted advantages are false, and in reality, the devices are proving to provide no savings to the customer. But aside from it's failed promises, they are potentially dangerous to your health, with even the World Health Organisation stating they are likely Carcinogenic!
There is nothing smart about a smart meter, deadly or intrusive maybe, but smart they are not. With more and more studies coming to light which strongly suggest that microwave radiation is causing significant harm to human tissue the smart meter is something we really should be concerned about.
Along with Mobile Phones, WiFi Routers and all the other 'Smart' Devices which are being launched (which in turn will all be linked together through your smart meter) our home's are becoming the most dangerous places to be on Earth.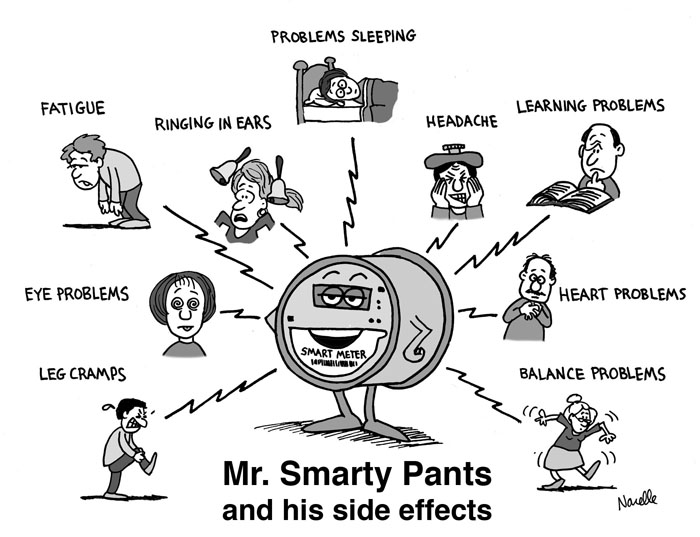 List of potential health symptoms
Sleep problems (insomnia, difficulty falling asleep, night waking, nightmares)
Stress, agitation, anxiety, irritability
Headaches, sharp pain or pressure in the head
Ringing in the ears, ear pain, high pitched ringing
Concentration, memory or learning problems
Fatigue, muscle or physical weakness
Disorientation, dizziness, or balance problems
Eye problems, including eye pain, pressure in the eyes,
Cardiac symptoms, heart palpitations, heart arrhythmias, chest pain
Leg cramps, or neuropathy
Arthritis, body pain, sharp, stabbing pains
Nausea, flu-like symptoms
Sinus problems, nose bleeds
Respiratory problems, cough, asthma
Skin rashes, facial flushing
Urinary problems
Endocrine disorders, thyroid problems, diabetes
High blood pressure
Changes in menstrual cycle
Hyperactivity or changes in children's behavior
Seizures
Recurrence of cancer
Taken from EMF Safety Network Survey 2011
Symptoms after Exposure to Smart Meter Radiation By Dr. Ron Powell
Do Smart Meters really spy on what we do?
The quick answer is yes. Because Smart Meters will ultimately be connected to your household Wireless Router and thus all your other WiFi-enabled devices it will have access to all the data and resources flowing through these devices.
Former CIA Director David Petraeus once stated that WiFi-connected devices, such as appliances commonly found inside many homes, will "transform the art of spying." Petraeus also said that spies will be capable of monitoring Americans without going inside the home or perhaps even acquiring a warrant. He went on to state that remote control radio frequency identification devices, "energy harvesters," sensor networks, and small embedded severs all connected to an Internet network will be all that is necessary for clandestine intelligence gathering. [source]
Abby Martin explains all this in a 2013 episode of Breaking the set on RT:
So if you're Smart you will avoid Smart Meters – they offer NO advantages whatsoever so your not missing out on anything – we promise!
[divider style="solid" top="20″ bottom="20″]