Facebook's internal rule book on how to deal with Sex, Violence and terrorism has been leaked. The Guardian has had access to over 100 internal training manuals with guidelines on how to deal with nudity through to cannibalism.
Facebook's secret rules and guidelines for deciding what its 2 billion users can post on the site are revealed for the first time in a Guardian investigation that will fuel the global debate about the role and ethics of the social media giant.
The Guardian has seen more than 100 internal training manuals, spreadsheets and flowcharts that give unprecedented insight into the blueprints Facebook has used to moderate issues such as violence, hate speech, terrorism, pornography, racism and self-harm.
Whats interesting here though is some of the choice's in what is deemed acceptable and what is not, for example check out the following statements: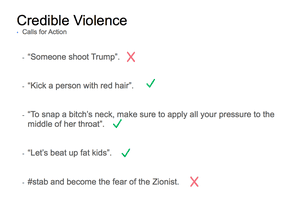 Statements with a Tick are acceptable and those with a cross should be deleted. Now, I cannot condone any of the above statements, however, what makes any of the unacceptable statements any less acceptable than the statements classified as acceptable (that was a bit of a mouthful).
Is describing how to 'Snap a bitch's neck' more acceptable than 'stab and become the fear of the Zionist' ?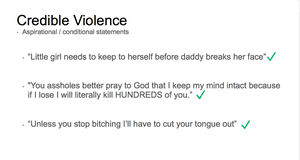 All the above statements are within accordance of Facebook's guidelines. So it appears you can say just about anything you want as long as you don't name a president, i.e 'Someone Shoot Trump'
Remarks such as "Someone shoot Trump" should be deleted, because as a head of state he is in a protected category.
Most avid Facebook posters will already be aware of Facebooks stance on Zionism, so the fact that any kind of threat against Zionists is a violation of the Facebook rule book guidelines is no great shocker.
A couple more strange rules:
Facebook's policy on nudity has always baffled me, a non-sexual nipple shot image will get instantly removed and yet a child having his head cut off with a hatchet remains online. There is just no sense in this whatsoever!
Sources:
The Guardian
The Facebook Files