In 2001 following the tragic events of September 11th the US began it's 'War on Terror', with the first Country on the hit list being, Afghanistan.
Today, fifteen years later the US still holds a strong military presence in Afghanistan. But why ?
Natural Resources
"The previously unknown deposits — including huge veins of iron, copper, cobalt, gold and critical industrial metals like lithium — are so big and include so many minerals that are essential to modern industry that Afghanistan could eventually be transformed into one of the most important mining centers in the world, the United States officials believe.
An internal Pentagon memo, for example, states that Afghanistan could become the "Saudi Arabia of lithium," a key raw material in the manufacture of batteries for laptops and BlackBerrys.
The vast scale of Afghanistan's mineral wealth was discovered by a small team of Pentagon officials and American geologists. The Afghan government and President Hamid Karzai were recently briefed, American officials said.
While it could take many years to develop a mining industry, the potential is so great that officials and executives in the industry believe it could attract heavy investment even before mines are profitable, providing the possibility of jobs that could distract from generations of war.
"There is stunning potential here," Gen. David H. Petraeus, commander of the United States Central Command, said… "There are a lot of ifs, of course, but I think potentially it is hugely significant."
The value of the newly discovered mineral deposits dwarfs the size of Afghanistan's existing war-bedraggled economy, which is based largely on opium production and narcotics trafficking as well as aid from the United States and other industrialized countries. Afghanistan's gross domestic product is only about $12 billion.
"This will become the backbone of the Afghan economy," said Jalil Jumriany, an adviser to the Afghan minister of mines. (New York Times, op. cit.)
In 2008 'The US.Energy Information Administration' (EIA) noted that Afghanistan's natural gas reserves are "substantial":
"As northern Afghanistan is a 'southward extension of Central Asia's highly prolific, natural gas-prone Amu Darya Basin,' Afghanistan 'has proven, probable and possible natural gas reserves of about 5 trillion cubic feet.' (UPI, John C.K. Daly, Analysis: Afghanistan's untapped energy, October 24, 2008)
Afghanistan is a land bridge. The 2001 U.S. led invasion and occupation of Afghanistan has been analysed by critics of US foreign policy as a means to securing control over the strategic trans-Afghan transport corridor which links the Caspian sea basin to the Arabian sea.
Several trans-Afghan oil and gas pipeline projects have been contemplated including the planned $8.0 billion TAPI pipeline project (Turkmenistan, Afghanistan, Pakistan, India) of 1900 km., which would transport Turkmen natural gas across Afghanistan in what is described as a "crucial transit corridor". (See Gary Olson, Afghanistan has never been the 'good and necessary' war; it's about control of oil, The Morning Call, October 1, 2009). Military escalation under the extended Af-Pak war bears a relationship to TAPI. Turkmenistan possesses third largest natural gas reserves after Russia and Iran. Strategic control over the transport routes out of Turkmenistan have been part of Washington's agenda since the collapse of the Soviet union in 1991. [Source]
Heroin For The World
The Centre of Reseach on Globalization published a very extensive report on this topic, here are same important points from the article:
Opium production in Afghanistan skyrocketed from 185 tons to 8,200 tons between 2001 and 2007 (today it is down to 3,700 tons). Most commentary glosses over Washington's large share of responsibility for this dramatic expansion while magnifying the Taliban's role, which available data indicates is relatively minor. Also, identifying drugs as a main cause behind the growth of the insurgency absolves the United States and NATO of their own role in fomenting it: the very presence of foreign troops in the country as well as their destructive attacks on civilians are significant factors behind increases in popular support for, or tolerance of, the Taliban. In fact, as a recent UNODC report notes, reducing drug production would have only a "minimal impact on the insurgency's strategic threat," because the Taliban receive "significant funding from private donors all over the world," a contribution that "dwarfs" drug money.
The total revenue generated by opiates within Afghanistan is about $3 billion per year. According to UNODC data, the Taliban get only about 5 percent of this sum. Farmers selling their opium harvest to traffickers get 20 percent. And the remaining 75 percent? Al-Qaeda? No: the report specifies that it "does not appear to have a direct role in the Afghan opiates trade," although it may participate in "low-level drugs and/or arms smuggling" along the Pakistani border. Instead, the remaining 75 percent is captured by traffickers, government officials, the police, and local and regional power brokers – in short, many of the groups now supported or tolerated by the United States and NATO are important actors in the drug trade.
Mainstream commentary blames the size of the narcotics industry and much of what goes wrong in Afghanistan partly on corruption. But to focus on bad apples in the Afghan government and police misses the systemic responsibility of the United States and NATO for the dramatic expansion of opiates production since 2001 and for their support of numerous corrupt individuals in power. The United States attacked Afghanistan in association with Northern Alliance warlords and drug lords and showered them with weapons, millions of dollars, and diplomatic support.
When Donald Rumsfeld was asked in 2003 what the United States was doing about narcotics in Helmand, he replied: "You ask what we're going to do and the answer is, I don't really know." A US military spokesman at Bagram base, Sergeant Major Harrison Sarles, stated: "We're not a drug task force. That's not part of our mission."
Several reasons explain the early opposition to counternarcotics on the part of the White House and the military. First, Afghanistan was attacked to show that Washington should not be challenged, and destroying poppy crops and heroin labs contributes nothing in this respect.
Second, many of the United States' local Afghan allies were involved in trafficking, from which they drew money and power. Destroying drug labs and poppy fields would have been, in effect, a direct blow to American operations and proxy fighters on the ground. As Western diplomats conceded at the time, "without money from drugs, our friendly warlords can't pay their militias. It's as simple as that."
Third, the Department of Defense thought that eradicating crops would upset farmers and hurt attempts at winning Afghan hearts and minds. Indeed, since 2001, the Taliban have sought to capitalize on resentment caused by eradication schemes. For example, in Helmand "they appear to have offered protection to the farmers targeted by eradication" and in Kandahar "they were even reported to have offered financial assistance to farmers whose fields were being eradicated, in exchange for support in fighting against the government." Thus, it is far from certain that eliminating drugs would weaken the insurgency. In fact, the opposite is more likely, as it would only add to the opposition already generated by NATO operations in the country, as noted by a well-informed analyst: "As the conflict progressed, victims of abuses by both Afghan and foreign troops and of the side-effects of US reliance on air power began to represent another important source of recruits for the Taliban."
Afghanistan in the 70's
Afghanistan didn't always look like it does today, in fact, Afghanistan was at the forefront of Education and Women's Rights. It wasn't until the Late 1970's all this began to change.
Another great Country brought to the ground, it's culture destroyed, it's population in tatters.
This is not a 'War on terror' – This is a 'War on morality'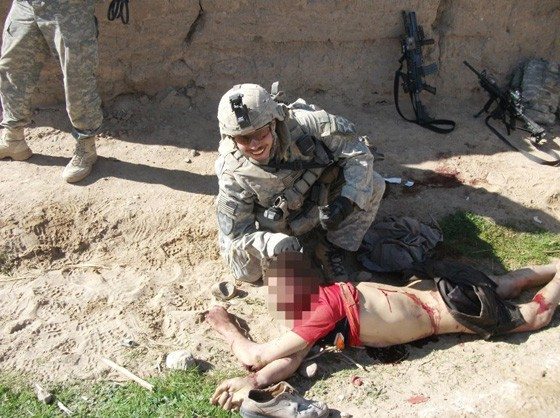 https://youtu.be/C6put1Nq_xA?list=PL5CCA82848F4DE414