Update 18/10/2016 21:45 GMT:
Natwest has denied accusations that they have closed down UK bank accounts belonging to RT News:
A British bank has denied reports it closed the UK accounts of RT, Russian state TV's international channel.
NatWest said a letter had been sent to one of RT's suppliers, not RT itself, and no accounts had been frozen. [BBC News]
In the last few hours it has been reported that Natwest will be closing the Russian News Channel RT News UK bank accounts.
No explanation has been given and no right to appeal leaving the station with many unanswered questions. Freedom of speech, it appears not!
BBC News reports:
Margarita Simonyan tweeted: "They've closed our accounts in Britain. All our accounts. 'The decision is not subject to review.' Praise be to freedom of speech!"
An MP from Russia's ruling party has said the country's Parliament will "demand an explanation" from the UK.
RT says the bank gave no explanation for its decision.
It said the entire Royal Bank of Scotland Group, of which NatWest is part, was refusing to service RT.
The broadcaster, previously known as Russia Today, says NatWest wrote to its London office saying:
"We have recently undertaken a review of your banking arrangements with us and reached the conclusion that we will no longer provide these facilities."
RT editor-in-chief Margarita Simonyan tweeted that "They've closed our accounts in Britain":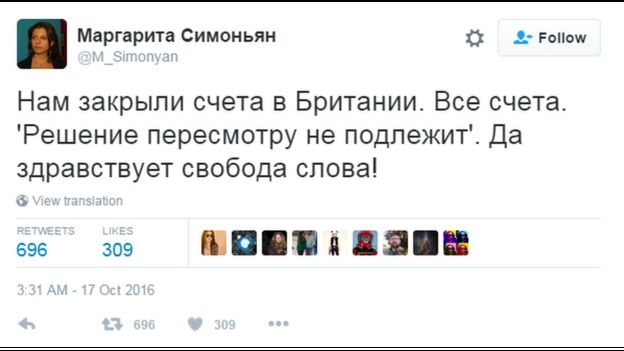 RT, which is run by the Kremlin, has previously been sanctioned by UK broadcasting regulator Ofcom for biased reporting.
This included claims that the BBC "staged" a chemical weapons attack for a news report on Syria.
Russian media outlets have made inroads into the UK recently.
The state-funded Sputnik news agency set up in Edinburgh in August to broadcast live radio programmes from Scotland. It said its goal was "telling the untold" to Scottish and UK audiences, although critics say it will act as a Kremlin mouthpiece. [source]
"This decision is incomprehensible, and without warning. It is however, not at odds with the countless measures that have been undertaken in the UK and Europe over the last few years to ostracize, shout down, or downright impede the work of RT. RT UK will continue its operations uninterrupted," RT press office stated.
Sergey Lavrov believes that the decision had not been taken by the bank independently:
"It's as clear as day that this decision was not made by the bank. And not any other bank – banks don't make such decisions on their own," he said. "I believe an old saying is appropriate here: don't treat others the way you don't wish to be treated yourself."
Are we entering a New Cold War ?
Tensions between the West and Russia do not appear to be easing off anytime soon, this latest attack on Russia is just the tip of the iceberg.
[divider style="solid" top="20″ bottom="20″]