Well, 2017 was never promised or expected to be any different to 2016. At least 39 people have been reported dead following an attack made by an unknown individual armed with an AK-47, rampaged through a nightclub in Istanbul during the New Years Eve celebrations.
As usual those Western-sponsored Psychopaths 'Islamic State' have taken responsibility.
Earlier reports indicated the attacker was wearing a Santa Claus outfit, police now confirm this as false.
A desperate manhunt has been launched to find a terrorist who entered a packed nightclub on New year's Eve allegedly dressed as Santa Claus and slaughtered dozens of young partygoers.
At least 39 people have been killed after the twisted killer stormed the Reina nightclub in Istanbul armed with an AK-47 and began blasting people at will.
As many as 16 of those dead are thought to be foreign nationals but there is no news yet if any victims are British.
The horror began after New Year's Eve early this morning when the gunman arrived outside the club in a yellow taxi.
He then shot dead a policeman stationed outside before storming in and opening fire with an assault rifle.
Chilling CCTV showed the killer dressed in the festive outfit brandishing the firearm inside the club. [Source]
Turkish Police have released an image of the alleged attacker:
The BBC reports:
The attacker left his gun before "taking advantage of the chaos" and fleeing the scene, Turkey's PM said.
Binali Yildirim also confirmed the gunman was not dressed as Santa Claus, contradicting earlier reports.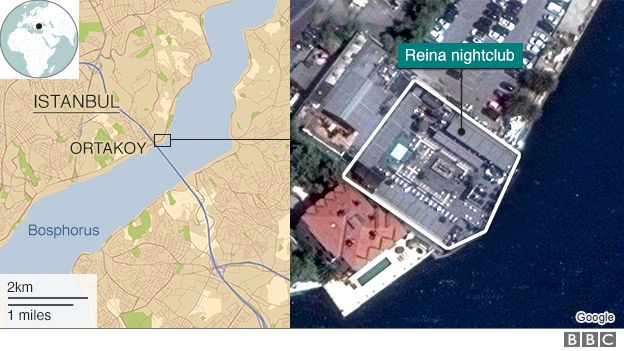 We'll keep you posted.